Management
The CiBER-IGERT has both direct and supporting institutional commitments.
CiBER-IGERT Centers and Program Partners
Technology and Leadership Studies Program
We will manage the proposed CiBER-IGERT through the coordinated efforts of a Steering Committee with specific roles for each of its directors.
Our Managerial Team will include:
Direct institutional commitments.
Center for interdisciplinary Biological Inspiration in Education and Research – CiBER. UC Berkeley has made a strong commitment to facilitate interdisciplinary research and training focused on biological, bio-inspired and human-engineered motion systems. Our newly opened, university-sponsored, center, CiBER, encompasses 32 faculty from seven departments (Integrative Biology, Molecular and Cell Biology, Bioengineering, Electrical Engineering and Computer Science, Mechanical Engineering, Civil Engineering, Psychology) and the Berkeley Natural History Museums who will provide the foundation for our IGERT. Through a combined effort of the Deans of Biological Sciences and of Engineering and by the Vice Chancellor of Education, CiBER was created and granted space, support for a technical director, funding for equipment purchase, departmental commitment to support a new interdisciplinary teaching/research laboratory and seven years of support for fund-raising efforts.
UC Berkeley has committed space for CiBER's Common Lab to be used by IGERT Trainees including reception and presentation areas, a technical director and administrator's office, an office for two visiting biologists or engineers from academia and/or industry, an animal preparation room and five separate rooms for materials testing, energetics, kinematics/dynamics, a water flume and four smaller rooms for 3D data analysis and dynamic modeling. An adjacent building holds two wind tunnels for aerodynamics research. CiBER has been allocated funding for a technical director to assist in research projects and aid in the IGERT researched-based, teaching laboratory. The initial CiBER budget allowed the purchase of major pieces of equipment for the study of motion systems (see Facilities).
UC Berkeley is committed to sustaining the activities of IGERT through CiBER beyond the proposed support period. CiBER is working daily with the Senior Director for External Relations in the College of Letters and Science. This fund-raising effort has resulted in the creation of a defined fund-raising priorities plan and a corporate engagement model that includes naming opportunities, an Industrial Affiliates Program with several levels of engagement, and options for sponsored research agreements. In CiBER's first semester, two industrial seminars on motion systems were given – one by Marc Raibert, Founder of Boston Dynamics Inc., a robotics company famous for the robot BigDog, and the other by Helen Greiner, President and Co-Founder of iRobot which produced the robot vacuum cleaner, Roomba. CiBER ran its inaugural Industry Day Symposium on Gecko-inspired Adhesives inviting ten of the top adhesive-related companies. Finally, CiBER is part of the UC Berkeley's 3 billion dollar capital campaign. The Dean of UC Berkeley's Graduate Division will provide non-resident tuition fees for two students per year for this IGERT.
BACK TO TOP
Supporting Commitments.
UC-Berkeley has invested in the infrastructure of our proposed research focus areas. The integration of these research areas within and among biology and engineering will provide the basis for the success of our IGERT. We detail the ongoing commitments below.
To demonstrate the importance of biodiversity and to most effectively use inspiration from nature through an understanding of evolution, we will take advantage of the California Biodiversity Center and The Berkeley Natural History Museums, a consortium of six research museums that together encompass some of the world's most valuable natural history collections. The combined collections contain more than 30 million natural history specimens of which nearly 100,000 are loaned out per year for analysis. The Museum of Vertebrate Zoology, The Essig Museum of Entomology, The University of California Museum of Paleontology and The Human Evolution Research Center directed by IGERT participant White are located in the same building as CiBER. Forty-two field stations associated with The Berkeley Natural History Museums and the California Natural Reserve System provide complex environments for studying and testing motion systems. These include an NSF LTER Network field site and the Gump South Pacific Research Station, which manages an exceptional research-based field course.
Our IGERT will partner with The Center for Information Technology Research in the Interest of Society (CITRIS) that creates technology solutions for our most pressing social, environmental, and health care problems. Two IGERT participants, Sastry and Bajcsy, have served as directors. CITRIS facilitates partnerships and collaborations among more than 300 faculty members and thousands of students from numerous departments at four UC campuses, and with industrial researchers from over 60 corporations. The California legislature granted CITRIS $100 million in capital projects and operational funds for the construction of new facilities. In Spring 2009, the new CITRIS headquarters building on the UC Berkeley campus will add 141,000 sq ft of space for collaborative research laboratories.
CITRIS will house The Center for Intelligent Systems in a 5000 sq ft laboratory, directly supporting our research in control and learning. Ten IGERT faculty are members including Director Russell and IGERT PI, Full. The science of intelligent systems has been fragmented into various fields. Although the narrow focus of each field has enabled technical progress, it has also restricted the scope of problems and prevented cross-fertilization. The Center unites researchers from artificial intelligence, computer vision, robotics, control theory, neuroscience, adaptive systems, computational statistics, and game theory.
The Berkeley Sensor & Actuator Center (BSAC) is a CITRIS-affiliated center that will support our efforts in bio- and bio-inspired materials, sensors and actuators. Four IGERT faculty serve as directors. This Industry/University Cooperative Research Center, founded as the NSF Center for Microsensors and Microactuators, is devoted to interdisciplinary engineering research on micro- and nano-scale sensors, moving micromechanical elements, actuators, materials, microrobotics, bioMEMS, microphotonics and processes that take advantage of integrated-circuit technology. BSAC includes a multi-disciplinary research team of 120 graduate students and post-doctoral researchers led by directors from electrical, mechanical, and bio-engineering. BSAC Directors oversee nearly 100 projects with the cooperation, collaboration, and guidance of 30 industrial member companies and government laboratories.
IGERT Trainees and Faculty will benefit from UC-Berkeley's investment in multidisciplinary academic programs to teach the process of successful entrepreneurship and business innovation. Recently, the College of Engineering launched the Technology and Leadership Studies Program that will provide undergraduate, graduate, and executive education courses in technology management, innovation, and entrepreneurship, support a federation of cross-campus centers and programs, recognize individual achievements in leadership, and build strategic global partnerships. The program is the home of the Center for Entrepreneurship and Technology and the Management of Technology Program, which is a joint program with the Haas School of Business. The Lester Center for Entrepreneurship and Innovation sponsors an internationally recognized academic program including new courses on entrepreneurship, the Berkeley Entrepreneurs Forum, the Newton Distinguished Innovator Lecture Series, mentoring opportunities and business plan competitions. The Lester Center's location at the Haas School of Business allows it to connect business leaders with undergraduate and graduate students from all departments on campus. Both the Technology and Leadership Studies Program and the Lester Center have agreed to develop new and customize existing courses for IGERT Trainees.
BACK TO TOP
Organization and Management
We will manage the CiBER-IGERT through the coordinated efforts of the Steering Committee with specific roles for each of its directors. The committee will comprise a project director, the Deans of Engineering and Biological Sciences and directors from: each of the four research focus areas, education and assessment, recruitment, communications, career development and international relations, along with a student representative (Fig. 12). An external advisory board will provide guidance, a student committee will give frequent feedback, an external evaluator will submit yearly reports on our progress, and internal assessments will be conducted by our nationally recognized assessment center.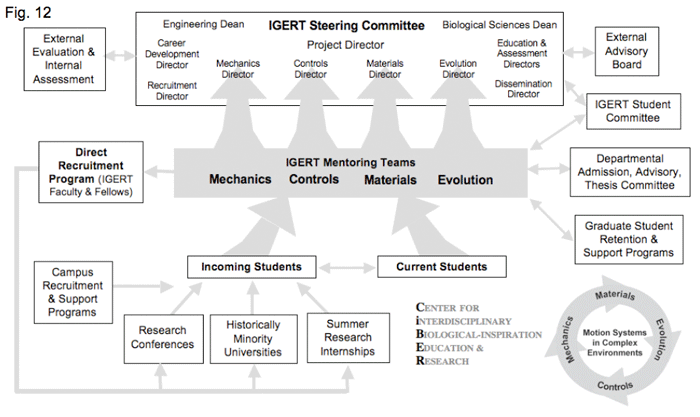 Recruitment. Potential IGERT trainees will be attracted to the program through the coordinated efforts of the Recruitment, Research Focus Group, and Communications Directors. The Recruitment Director will be responsible for coordinating activities to find qualified IGERT Trainees through partnering with effective campus groups and utilizing our new undergraduate recruitment program for underrepresented groups presenting research at national meetings and our newly established direct pipelines to historically black universities. The Communications Director will oversee website advertisement, the production of fliers, and other press materials. Our website will highlight the research focus areas and allow students to declare their interests through an on-line form. Research Focus Group Directors will ensure that their faculty participants broadcast traineeship opportunities to societies, organizations and associations as well as on campus.
Selection. Each Research Focus Group Director will collect inquiries and nominations from incoming and current students and will thereafter make recommendations to the Steering Committee. The Research Focus Group Directors and the Steering Committee will receive assistance and feedback from the IGERT Student Committee. The Steering Committee will select the most outstanding prospective IGERT Trainees who meet our criteria. Research Focus Group Directors will provide guidance for incoming prospective trainees who need assistance in applying for and being matched to a particular department. Our selected, incoming prospective IGERT Trainees who meet the admissions standards for their departmental graduate program will be offered admission with an IGERT Traineeship.
Mentorship. Once in the program, an IGERT trainee will meet with their IGERT Mentoring Team that includes an IGERT Research Focus Group Member, the Director of Education and Assessment, the Career Development Director, and a previous IGERT student. The Research Focus Group Member will provide guidance leading to year-long and summer research opportunities, as well as integration with other research focus areas. The Co-Directors of Education and Assessment will detail course offerings and assist students so as to meet both IGERT and departmental requirements. The Career Development Director will provide information concerning internships and all international opportunities. The IGERT Mentoring Team will ensure that each trainee has one IGERT Faculty Participant from biology and one from engineering on their departmental advisory committees. An internal collaborative website (IGERT twiki) will provide rapid coordination and feedback in all phases of the project.
BACK TO TOP
Managerial Team
Project Director. Professor Full will direct the project, head the Steering Committee and work closely with the Dean of Engineering and Biological Sciences to ensure that immediate resource needs are met and longer-term opportunities seized to sustain the IGERT mission beyond the grant period. Full is in the final year of managing a 5-year NSF Frontiers in Integrative Biology Research Grant on how animals move that has supported over 40 graduate students, post docs and undergraduate researchers from five universities. Full's FIBR program led to the creation of CiBER, which he now directs, as well as a new start-up mobile robot company. For his efforts in research-based education, Full was named a National Academies Mentor in the Life Sciences. To best coordinate the IGERT, Full has made direct contact with individuals involved in assessment, evaluation, international collaboration and underrepresented minority recruitment. Full has published in all four focus areas both in biology and engineering and is on the editorial board of the new IOP journal Bioinspiration and Biomimetics.
Recruitment. Professor Russell will direct IGERT Trainee recruitment. Russell is the Chair of Electrical Engineering and Computer Science and the PI on an NSF REU Site Award for SUPERB.
Research Focus Areas. Professor Koehl will direct the Mechanics Focus Group. Koehl is an internationally recognized researcher in fluid and solid mechanics of organisms in their environment and a member of the National Academy of Sciences. Professor Fearing will direct the Controls Focus Group. Fearing is a leader in the design and control of micro-flying and -crawling robots along with the development of controllable adhesives. Professor Lee will direct the Materials Focus Group. Lee has developed a biomimetic silk gland, a tunable spherical retina, an artificial compound eye and a variety of nanostructure sensors. Professor Dudley will direct the Evolution Focus Group. Dudley's research lies at the interface of biomechanical performance with evolutionary biology, and integrates historical perspectives with functional design using animal flight as a model system.
Education and Assessment. Professor Keaveny will serve as one co-director focusing on the engineering curriculum. Keaveny is a member of both the Dept. of Mechanical Engineering and Bioengineering. He has led an effort to reform the Bioengineering Curriculum and build a program to integrate with biology. Professor Caldwell will serve as the co-director having experience with the biology curriculum. Caldwell served twice as Chair of the Dept. of Integrative Biology and is actively involved in education and assessment evidenced by being co-PI on two major NSF instructional grants – WWW.evolution and Building an Understanding of Science.
IGERT Student Committee. The IGERT Student Committee assists in recruitment, advises the Steering Committee on selection and placement, and provides a representative to aid the IGERT Mentoring Team in developing a new trainee's program. The student committee will be composed of five IGERT students who have completed their program or are currently in the program. Former IGERT Trainees will not only provide key information about the program, but will continue to connect with students who have finished the support period. One selected student will represent the committee at Steering Committee Meetings.
Career Development. Professor Bajcsy will direct career development, internships and international collaborations. She has advised more than 50 Ph.D. recipients, directed CITRIS at UC Berkeley, headed NSF's Computer Information Science and Engineering Directorate, and founded UPenn's General Robotics and Active Sensory Perception Laboratory. For her leadership in successfully bridging diverse areas, such as computer control, cognitive science, robotics, image processing and artificial vision, she was named a member of the National Academy of Engineering.
External Advisory Board. The external advisory board will consist of two members from engineering and two from biology who have extensive experience in bio- and bio-inspired motion systems in complex environments. The board will also include one member from industry. Professor Koditschek from the Univ. of Pennsylvania and Professor Cutkosky from Stanford University are both world leaders in the design of bio-inspired robots and devices. Professor Biewener from Harvard University and Professor Daniel from the Univ. of Washington are world experts in animal locomotion and have inspired robot designs. Senior Roboticist of iRobot, Dr. Buehler, will join the advisory board as the industrial member. Buehler has built bio-inspired robots such as RHex, RiSE and BigDog.
Internal Assessment and External Evaluation. Internal assessment will be conducted in collaboration with UC-Berkeley's Evaluation and Assessment Research (BEAR) Center under the direction of Professor Wilson. The BEAR Center operates out of the Graduate School of Education and has no direct association with the College of Letters and Science or the College of Engineering.
Communication and Collaborative Activities. Professor Pruitt will direct communications and dissemination. She has served as the Associate Dean for Lifelong Learning and Outreach Education for the College, and as the Vice Chair of Undergraduate Studies in the Department of Bioengineering. Additionally, Pruitt was awarded the Presidential Award for Excellence in Science, Mathematics and Engineering Mentoring. Programming Assistant Jennings will create and update the IGERT public and collaborative private site. Jennings has four years of experience developing both types of sites for an NSF FIBR Grant and a multi-university DARPA grant. She is also the architect of the current CiBER site.
Communication and Collaborative Activities. Professor Pruitt will direct communications and dissemination. She has served as the Associate Dean for Lifelong Learning and Outreach Education for the College, and as the Vice Chair of Undergraduate Studies in the Department of Bioengineering. Additionally, Pruitt was awarded the Presidential Award for Excellence in Science, Mathematics and Engineering Mentoring. Programming Assistant Jennings will create and update the IGERT public and collaborative private site. Jennings has four years of experience developing both types of sites for an NSF FIBR Grant and a multi-university DARPA grant. She is also the architect of the current CiBER site.
BACK TO TOP
We are no longer accepting applications.


Search this Site:
Breaking News from CiBER-IGERT

Vote in the IGERT Video & Poster Competition! Trainee Dwight Springthorpe's video is now online: http://t.co/tAlRUkAN8O
J. Sean Humbert (Univ. of Maryland) will be presenting a CiBER-IGERT talk tomorrow. Info: http://t.co/bSvslqsS3a
Sangbae Kim (MIT) will be presenting a CiBER-IGERT seminar tomorrow. Info: http://t.co/vMAxRFlq

Breaking News from the CiBER Center

Vytas SunSpiral, NASA Ames Research Center, will be speaking this Friday 4/5 at 3.30pm. Info: http://t.co/sAYQXVLZ
J. Sean Humbert (Univ. of Maryland) will be presenting a CiBER-IGERT talk tomorrow. Info: http://t.co/sAYQXVLZ
Sangbae Kim (MIT) will be presenting a CiBER-IGERT talk tomorrow. Info: http://t.co/sAYQXVLZ